Last updated: August 6th, 2023
The smallest adult-sized electric scooters are a fun, zippy way to get around town.
The best ones provide just enough range for local trips and transit connections, yet fold small enough to stash under your desk, beneath a bus or train seat, or even in the bottom of a shopping cart.
While less compact than kids' models, these lightweight electric scooters can carry a full-grown adult of roughly average height and weight.
Such a compact electric scooter makes big trade-offs in features and performance. Right off the bat, let's set realistic expectations:
About 6-10 miles of real-world range due to small, light batteries. Manufacturers often claim higher numbers that seldom reflect actual conditions.
Less than 30 lbs in weight—and ideally in the mid-20s—for easy lifting and carrying when folded. Going any lighter puts your into the realm of kid-sized scooters with uselessly short range (and diminutive size).
Smaller wheels, typically 6″, which maximize portability at the cost of smoothness.
If you're OK with these trade-offs in exchange for terrific portability, then here are the best tiny e-scooters of 2023.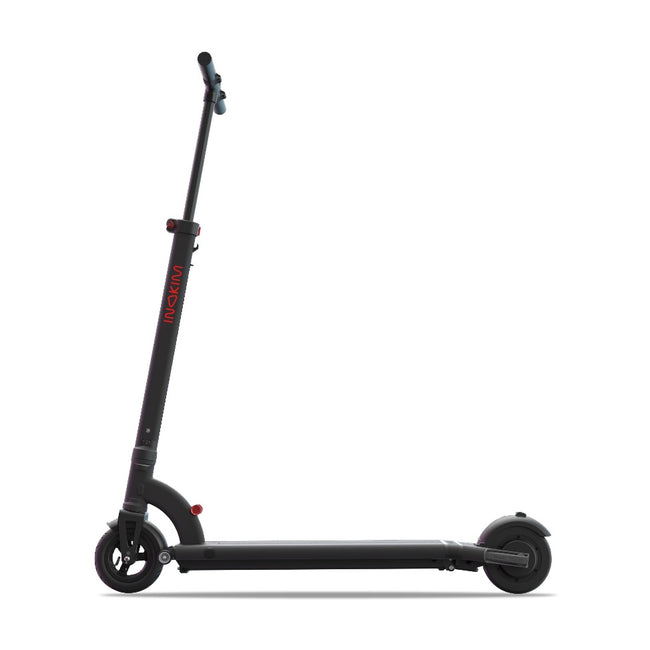 The Inokim Mini 2 may look like a toy, but its build quality and 15 mph speed are thoroughly grown up. It's the best super-portable value around.
Stylish, powerful upgrade
Unagi's dual-motor Model One Voyager isn't the smallest, but its gorgeous design and surprising power add up to the most enjoyable super-portable scooter around. Better still, Unagi's one-of-a-kind rental program makes it easy to test in everyday life.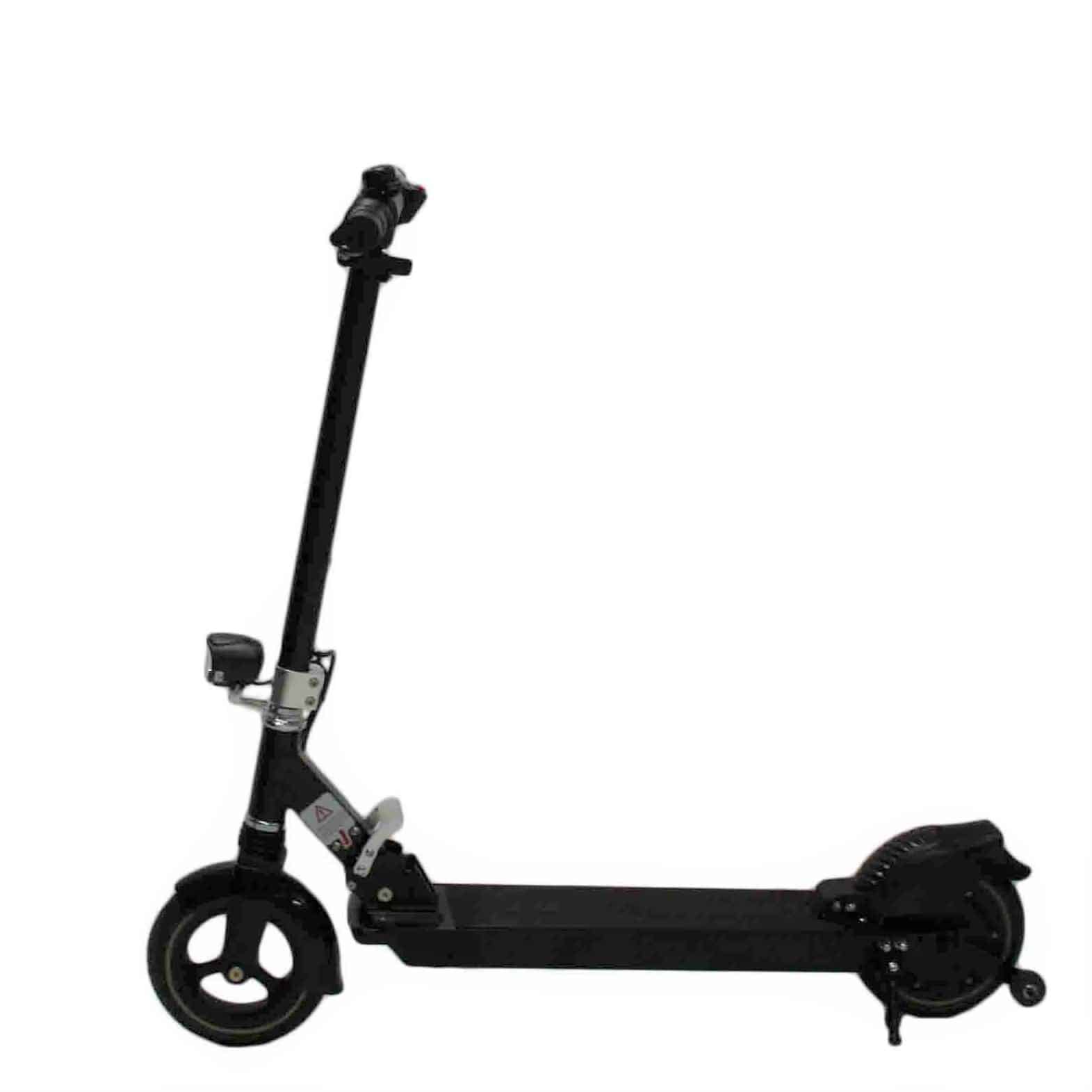 The Glion Dolly is hands-down the best value, especially during its frequent promos. Its speed and range are impressive, but hefty weight and poor braking keep it out of the top spot.
My favorite small, lightweight electric scooters
Top pick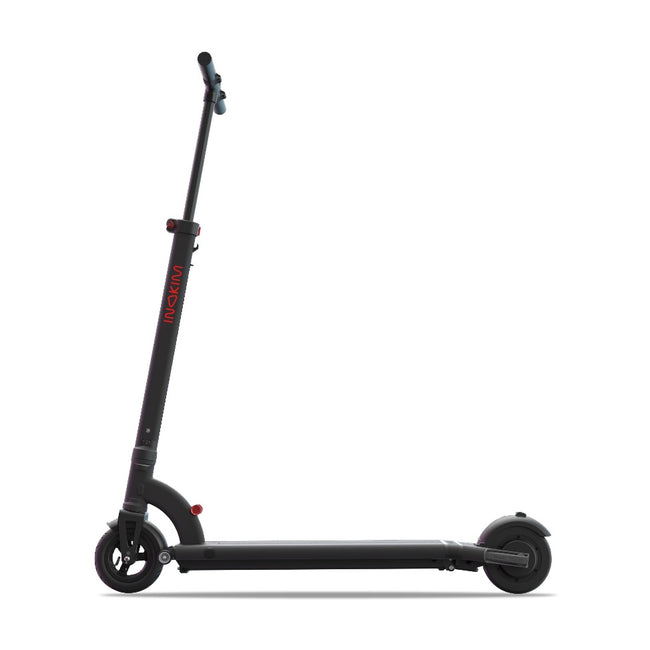 The Inokim Mini 2 weighs 23 lbs and folds down to 38″ x 12″ x 15″. That's compact indeed, but still 4″-6″ wider and taller than the absolute smallest model.
So, why make it the top pick?
Simple: my research left zero doubt that the Mini 2 is the best value among small adult e-scooters, and arguably the best electric scooter in its class.
Pros
Incredibly small folded size
Useful (if unimpressive) range for last-mile jaunts
Rear suspension offsets harshness of solid tire
Cons
Small, 6″ wheels struggle over obstacles, period
Roughly 3-5 pounds heavier than its closest competitor
Its 250 W motor is standard for this category, but the 15 mph max speed outshines the smaller but similarly-priced Ninebot Air T15. To slow down, you'll find the usual set-up: a thumb-activated regenerative brake plus a fender "stomp brake" for emergencies.
With a claimed range of 10 miles (likely 8-9 miles in actuality), you'll go farther per charge than on the Ninebot Air T15. It even rivals the real-world range of the Unagi Model One.
One standout feature is Inokim's choice of a front pneumatic tire and rear suspension—both rarities in this category. The 6″ tires still warrant extra caution around obstacles, but you can expect a smoother ride than on any of its solid-tire, un-suspended competitors.
Stylish, powerful upgrade
At 29.6 lbs and 37″ x 16″ x 15″ (folded), the Model One Voyager is the bulkiest model on this list.
And its real-world range is often reported at < 20 miles despite a price tag pushing a grand, so this is hardly a value pick.
So, why even suggest it?
It's the sleekest and most refined design on the market, and compact enough to fit the spirit of this round-up.
It's also an option—perhaps the only option—that style-conscious riders won't feel sheepish about.
Pros
A beautiful design you'll actually like being seen on
Subscription program is a fantastic value
Surprising acceleration and climbing on the dual-motor version
Cons
Roughly half again the price of plainer models with similar specs
Range is underwhelming for its considerable price tag
Generally too large for under-seat storage
The dual-motor version (2 x 250 W) is snappy from a stop and quick up inclines, especially compared to its cheaper single-motor sibling. And both versions sport 8″ honeycomb tires that'll cruise a little more smoothly than the 6″ we see elsewhere in this category.
One other thing, and perhaps coolest of all: Unagi's unique rental program is the best way to find out whether an e-scooter is worth it. Unlike beaten-up public rentals, you get your own scooter for less than your local bus fare.
The Unagi is neither the smallest adult electric scooter nor the best value. But it might be the best overall fit into your daily life.
Portable budget pick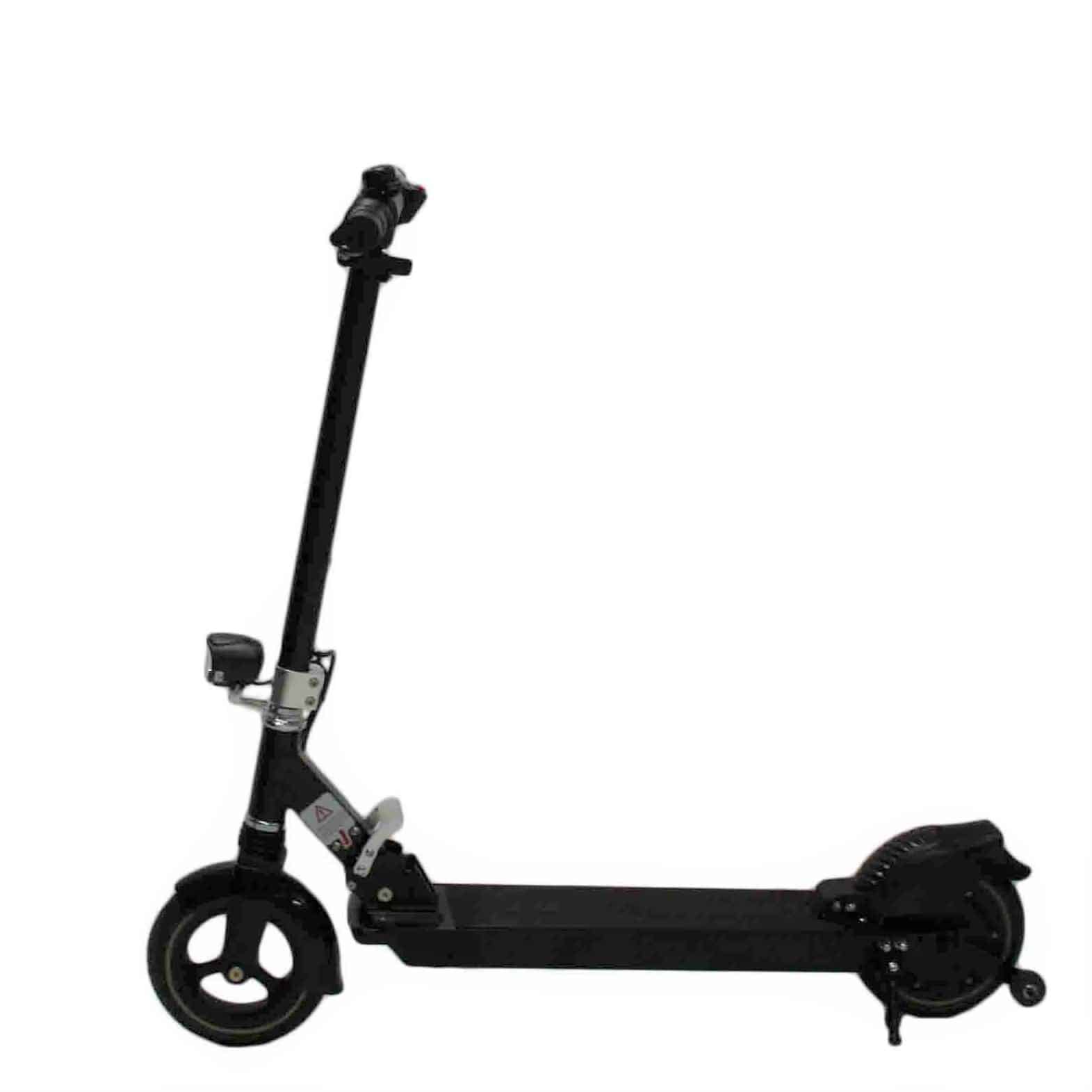 At 37″ x 8″ x 12″ folded, the Glion Dolly is only marginally bigger than the Air T15. But the Dolly blows away its smallest competitors with about 15 miles of range and 15 mph top speed (from a 250 W motor, as usual).
It's designed with mixed-mode commuters in mind, and Glion knows this market well. In 5-10 seconds, it folds down into a distinctive "dolly" configuration (hence the name) that's easy to tow or to stand on end.
Pros
One of the most compact folds you can find
Range and speed are good for its low price
No risk of flats
Cons
Rear-only brake is too weak and non-redundant for 15 mph top speed
Design isn't remotely stylish—at least to most folks' eyes
It's designed with multimodal commuters in mind, and Glion knows this market well. In 5-10 seconds, it folds down into a distinctive "dolly" configuration (hence the name) that's easy to tow or to stand on end.
However, its relatively long range comes from a bigger, heavier battery. That bumps this e-scooter up to 29 lbs, enough to keep it from topping this list. Even so, it's a worthy pick if you value compactness more than shaving off those last few pounds.
It rides on 8″ honeycomb tires without suspension, so ride quality is adequate on smooth pavement. In fact, expect a slightly smoother ride than from the 6″ on other ultra-portable scooters. But if you'll tackle rough ground, then look for a different option with suspension and/or pneumatic tires. (Admittedly, those are rare at this price point).
My one serious concern with the Dolly is its single, rear electronic brake. Most of your braking power is at the front wheel, so missing a front brake means extremely long stopping distances.
That would be less worrisome if it maxed out at jogging speed (like the Ninebot Air T15). And if you'll only ride down the sidewalk between transit stops—a perfectly legitimate use—then it's probably fine.
But at 15 mph, a rear brake alone just isn't adequate—even for a cheap electric scooter. Stay far under top speed unless you're in a wide-open area with zero likelihood of emergency stops.
The absolute smallest
With folded dimensions of 40″ x 8″ x 9″, the Ninebot Air T15 is today's smallest electric scooter for adults. And at a mere 23 lbs, it's also one of the lightest electric scooters on the market.
So why didn't I rank it first?
Well, the range doesn't match the price. Although it's the smallest, it's not the most useful outside of extremely limited circumstances.
Pros
Simply the smallest adult e-scooter around
Stylish, futuristic look sets it apart from clunky-looking budget models
Cons
Extremely short range limits it to literally last-mile use
Full price is hard to justify (but major sales do happen on occasion)
The T15 packs convenient features like 6″ solid rubber tires, thumb- and fender-activated regenerative braking, and one of the quickest folding mechanisms around.
It maxes out at 12.4 mph via a 250 W motor, making quick work of trips that are just slightly beyond walking distance.
Segway/Ninebot claims it'll cover 9.3 miles, but actual owners report just 4-5 miles of range. That's a low number even by the modest standards of the ultra-compact segment. Climbing ability is also extremely limited, and would drain the already small battery even faster.
With that in mind, the Ninebot Air T15 might make sense for transit riders who want to speed up their last-mile connections. And this incredibly small, foldable electric scooter is easily stowed at work for mid-day outings, if you've got the cash to spare. However, its small, hard tires are only appropriate for smooth pavement.
---
Is a small e-scooter right for you?
As I've emphasized, small e-scooters entail big compromises. Range is mostly a function of battery size, so small and light batteries usually keep range in the single digits.
To be blunt, ride quality also suffers.
That's not necessarily a problem if you stick to short rides on well-maintained city streets. But if your trips involve higher miles or tougher terrain, then it's worth sacrificing portability for 10″+ pneumatic tires, and even suspension.
That said, all the above are good examples of this category, and should equally keep you happy with reasonable expectations in mind.